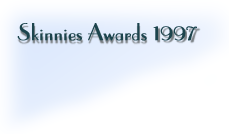 After over ten years documenting the skin conditions of Hollywood's denizens, many have asked the origins of skinema.com and the fabled Skinnies Awards. Now the events of that fateful night can finally be revealed...

The world's premier Skinnies Awards presentation took place on the 6th of January 1997, in the basement of an undisclosed dermatology clinic in the San Francisco Bay Area. The private banquet was stocked with low salt wafers and generic peanut butter cups that were enjoyed by all. Present were the website staff, a few local dermatologists hoping for free moisturizer samples, and the building custodian, who patiently waited out the festivities before sweeping up.
The ceremony didn't last long, as Dr. Reese efficiently covered the agenda in less time than a regular medical office visit. A few awards were established.
| | | |
| --- | --- | --- |
| "Best film noir scar" went to actor Humphrey Bogart. His dramatic lip scar always heightened his antihero persona. | | |
| | |
| --- | --- |
| | "Most copied celebrity skin growth" was awarded to Marilyn Monroe's beauty mark. This high end piece of real estate is still in demand. Starlets-in-training pencil in solitary dark dots, drawing attention to their lips or eyes. We can't think of any other skin growth that an actor would actually want. |
| | |
| --- | --- |
| "Worst surgical outcome" was a landslide victory by Dr. Frankenstein. To this day, facial surgeons have to reassure patients that skin cancer removal by a well trained physician usually does not lead to monstrous scars, stitch marks, and metal neck bolts. Post surgical patients can expect attractive results rather than Gothic horror. | |
The final order of business was an emotional debate over an appropriate domain name for the burgeoning skin and cinema site. "SkinFlicks.com," though catchy, was deemed too racy for a website devoted not just entertainment but also medicine.
"DermatologicalConditionsOfCelebritiesAndMovieCharacters.com" was discarded over concern that repeatedly typing the phrase would result in an epidemic of carpal tunnel syndrome in internet fans of film and folliculitis.
As a joke, the janitor blurted out "Skinema.com." The group's sudden silence was...well, "quiet" would describe it rather nicely. Then, as one, they agreed: Edgy, short, to the point, yet not reserved. That night, history was made and the Site and The Skinnies Awards were launched.
The custodian went on to purchase, register, and eventually sell the first domain name that had been suggested. Last we heard, he has retired to his own private Caribbean island. And uses plenty of sunscreen, naturally.
And now, back to the Skinnies Awards...
www.skinema.com

© 1996-2008 Vail Reese M.D.