Os-scar Buzz 2002: The "Skinnies..."

Disclaimer: The following is not a list of the most anorexic Hollywood starlets. Though voluntary starvation can result in dry brittle hair and poor wound healing, this set of awards is for the most significant entertainment skin conditions of the past year. So put down your exfoliant, toner, night cream, pore minimizer, skin rejuvenator, and the many patented wrinkle reducers. Grab instead your high strength sun screen and join in the ceremony. The glamour, the excitement, the unveiling of the Skinnies 2002 is here at last...

Best performance to distract from strange skin lesions:

Benjamin Bratt, "Piñero."

Most facial lesions found on an otherwise perfect face:

(Tie) Jennifer Connelly and Final Fantasy's Aki Ross

Most prophetic character name:
Paul Hogan as "Crocodile Dundee"

Performer with the most moles:
Gwen Stefani
of "No Doubt."

Most obscure trend:

Actors from Down Under with Tattoos All Over.
Consistantly broken out while film career is breaking out:
Snoop Doggy Dogg

Baldest Cast:

Gene Hackman et al in "Heist"
Reality TV Show with the thickest skin: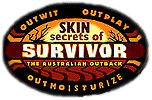 "Survivor"
Most unexpected cameo:

The Elephant Man in "From Hell"

And finally...
Largest cast with largest organ dysfunction:

The Lord of the Rings gang.

Congratulations to all the winners! Here's wishing you (and them) a year's worth of healthy skin!