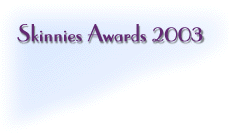 Os-scar Buzz 2003: The "Skinnies..."

Don't worry internet companion. We know your type: The entertainment awards addict. You just can't wait for the Oscars. You follow the various critic's lists, but the multitude of other Oscar wanna-be awards is confusing. Just who are the Hollywood Foreign Press Association? What are those Golden Globes and are they SAG-ging? Fear not--we at skinema.com have your fix. One need look no farther than the skin to see who is truly award-worthy. So sit back, relax, and revel in the most topical (pun intended) entertainment awards around: Here are the 2003 Skinnies awards...



Prosthetic makeup best used to de-glamorize a gorgeous star:


Alternative medical treatment to avoid:
Windex in "My Big Fat Greek Wedding"

Fallen former role model:


Insect bite of the year:

Mosquitoes in "Sweet Home Alabama" and "Lilo and Stitch"


Most unlikely costar:

Al Pacino's fingernail fungus in "Insomnia"


Leading Lip Lesion:
Extra large moley moles
in "Goldmember" and "Minority Report"

Surprise celebrity skin crisis:
Dame Elizabeth Taylor
is treated for skin cancer

Bad guy's favorite hairstyle:
Corn rows
for men

And finally...
Honorary dermatology degree:
Congratulations to all the winners! Here's wishing you (and them) a year's worth of healthy skin!